Parse your LTD invoices to Automatically add them to Subshero using Parsio
As a busy person, it can be tough to keep up with all of your subscription obligations.
But with Subshero and Parsio together it's easy to do everything with just a few clicks. One app that will help you keep track of your subscriptions in one place, and Now we can automatically add new subscriptions by parsing invoices using Parsio.
All you need is a free Parsio Account and Pabbly Account. Once that's in place, you're ready to start enjoying the benefits of Subshero!
What is Parsio?
Invoice parsing is a tedious and time-consuming task, but with Parsio, the tedious task of invoice parsing can be automated.
Some key features include extracting data from pdf invoices, email attachments, and documents. Additionally, Parsio has a variety of integrations that make it easy to connect to various systems.
Whether you're a small business or a large corporation, Parsio can help you automate invoice parsing and improve data extraction speeds.
A Quick Walk-through of Parsio
Manually adding new app subscriptions to your subscription list every time a new app is released is a time-consuming process.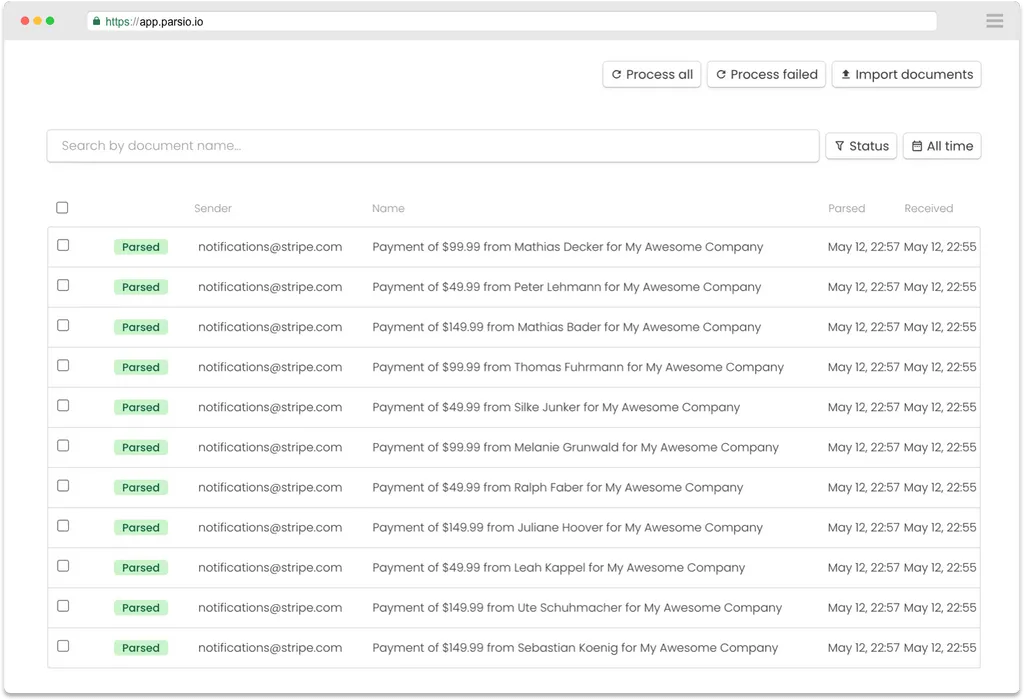 Here is a detailed guide on automating the process to save a lot of time and effort!
Creating Template in Parsio
Create a template step by step as shown below:
First, log in and Create an inbox
Create a template and map the fields you want to send.
Parsing Emails/ Documents
Send Parsio an invoice with the relevant data. Parsio will automatically extract data from all similar incoming emails
You can see the preview on the right side of your app.
How to add a new subscription in Subshero's list using Parsio
Connect Subshero & Parsio Using Pabbly
Now you have to connect Subshero with Parsio. Pabbly is the perfect connector. This simple yet powerful tool makes the process easy and efficient
All you need is to
Log in and create your workflow.
Once you have created your workflow, it's time to select the trigger – in this case, parsio will be trigger
Select Event as Document Parsed
Choose the right Mailbox
Optionally you can add a filter to add only a set of invoices
Select Subshero Create as Action Event
You can now map out all the fields required for data entry – such as Product Name , Pricing Date etc
Clone this Pabbly Workflow to quickly get started: https://connect.pabbly.com/workflow/share/AEhXZV8IAGNUHgJoVhlQd1hMUFQCWFVoBB0EFgQLAnpTCQdSB0ZaMAhEUnBVDgloAElSOFMMBWUKHlJWUAYCcVNJVHtVSlYLWmlRFA1SASsAYg##
Conclusion
Thanks for reading our blog post!
By following the steps outlined in this blog post, you will be able to add new subscriptions to your subscription list without having to manually add each subscription.
Furthermore, this blog post also includes invoice templates that you can use to invoice your customers for their subscription. So, if you are looking for a quick and easy way to add new subscriptions to your subscription list, then Parsio is the perfect tool for you to Extend Subshero's Capabilities.
Learn more about Subshero from Our Blog. Want to learn more about Parsio? Go to Parsio's Blog